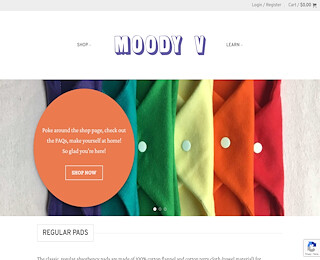 Moody V cloth menstrual pads are seriously one of the best cloth menstrual pads on Etsy. Their design is comfortable, effective, and so much better at staying in place than a pad that's one flat piece of fabric.
All design and practicality aside though, my absolute favorite thing about Moody V pads is how dang cute they are. There's even a mystery 6-pack option that you can get on the website or on Etsy. This option is my fave because you get the pads at a cheap, discounted price, and you get 6 cute cloth pads. You can choose between all regular absorbency, all heavy absorbency, or half and half! Isn't that cool?
Another cool thing about Moody V cloth period pads is that they are not only affordable, but they are cost-saving too! You buy a set of cloth pads that make you smile, and then that's it! You don't have to buy any more pads for literal YEARS if you don't want to. It's recommended that you keep at least 6 pads on hand so you have 3 pads per day for 2 days, then you do laundry. (But between you and me, friend, having extra is so nice. When you have closer to 10 or 12 pads, you can change your pad as often as you like throughout the day. You also don't have to worry about running out of clean pads before the laundry is done. And you have a lovely variety to choose from! Love that!
The last thing I love so so much about Moody V is that it's Queer-Owned and operated, and they will never ever ever purposely use trans-exclusionary language. Moody V is a trans-friendly cloth menstrual pads company whose focus is to provide access and inclusion for all.